Athens, Georgia
Athens, Georgia explores our town's past and present, with an emphasis on the lasting legacies of slavery and persisting racial and socioeconomic inequalities. Local neighborhoods -- from the East Side to Boulevard to Five Points -- were and still are divided by both race and class; even today few residential areas are truly integrated. In the late nineteenth and early twenty centuries, impoverished African-Americans and blue-collar mill workers congregated on the East Side while wealthier residents of color purchased homes along Reese Street. In Athens, we never lived equally and, therefore, we never died equally.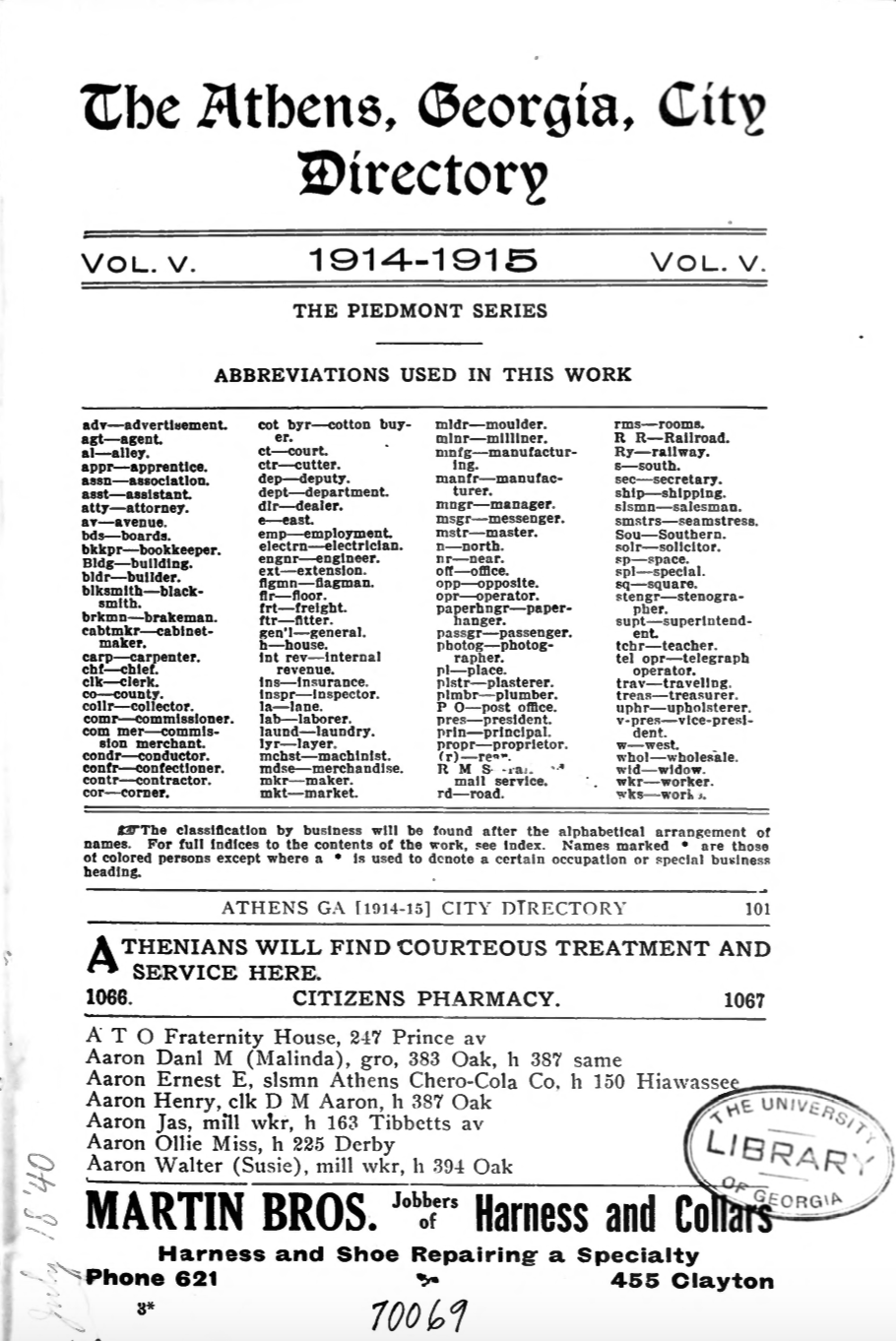 Athens City Directories are valuable sources for historical research. Listing the names, occupations, and residential addresses of local men and women, city directories are important tools for genealogical and historical research. A collection of Athens City Directories from the late nineteenth and early twenty centuries has been digitized by The Digital Library of Georgia. To facilitate research, the full collection is found on this page.
Historic Street Address considers the physically development of Athens, Georgia. When compared to some American towns and cities, Athens -- as a physical town -- has changed relatively little over the course of its two hundred year history. Nonetheless, the University of Georgia's campus has grown exponentially, some downtown streets have been expanded, and places have been renamed. During this process of growth, minority communities have been razed and marginalized peoples displaced. In order to map historic residential addresses, we have matched old streets with their modern equivalents.
Life and Labor investigates working conditions for white and Black Athenians. Our occupation does not directly predict our demise, but where we work and how we live can, in part, determine how we die. Take for example the southerner farmer: long hours spent out of doors, under the blistering sun, takes a toll on the body; heavy machinery and draft animals can easily maim a man; and chemicals designed to fertilize and enrich the soil poison the lungs and skin.
Black Athenians & The WPA Narratives explores the lived experiences of Black Americans before, during, and after the American Civil War. Fifty-seven Athenians were interviewed by the Federal Writers' Project between 1936 and 1938. These interviews, while problematic, provide a valuable lens into the Black community and offer a rich analysis of life and, even death, in Athens, Georgia. We have paired transcribed oral interviews with interactive data visualizations that map their residential addresses during the 1930s.
The WPA Life Histories interviewed men and women of various classes and races. The plan, according to the southeastern regional director of the Federal Writer's Project, was "to get life histories which are readable and faithful representations of living persons . . . which taken together, will give a fair picture of the structure and working of society." In Athens, from 1939 to 1940, white WPA workers went door-to-door, asking their white and Black neighbors to reflect on their lives and livelihoods. Those interviewed worked in myriad professions—teachers, mill operators, beauticians, salesmen, laborers, and undertakers—and these sources shed light on Depression-Era Athens.
NEXT: Decedent Data